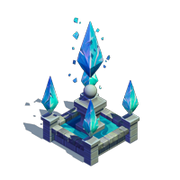 The Wizard's Portal is sold at the Trade Wagon. It acts like a Wizard School, dropping a dependable amount of energy every five hours.
Cost: 85 Troll Tokens, 20 Staff Tokens, 5 Lumin Essence, 5 hours
Size: 2 x 2
Limit: 2
Cannot be sold.
Drops: Drops Energy every 5 hours, amount increasing +1 per level (starts with 4 at level 1.) Each level requires additional gold Troll Tokens and Staff Tokens to build, as well as construction materials.
Upgrades and Drops
[
]
Level
Build Materials
Energy Drop
Level 1
built at Trade Wagon: 85 Troll Tokens, 20

Staff Tokens

, 5 Lumin Essence, 5 hours
drops 4 energy
Level 2
15

Staff Tokens

, 20 Troll Tokens, 2

Spellbound Blocks

, 2

Spellbound Beams

drops 5 energy
Level 3
18

Staff Tokens

, 22 Troll Tokens, 4

Spellbound Blocks

, 4

Spellbound Beams

drops 6 energy
Level 4
20

Staff Tokens

, 23 Troll Tokens, 1

Earthen Block

, 1

Earthen Beam

drops 7 energy
Level 5
22

Staff Tokens

, 25 Troll Tokens, 2

Earthen Blocks

, 2

Earthen Beams

drops 8 energy