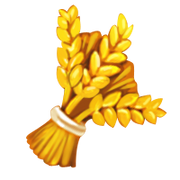 Wheat is used to make Flour, a cooking ingredient. It is vital for Flour, an essential ingredient in many recipes, but otherwise it is an unremarkable crop.
Use: It takes 5 Wheat and 30 minutes in the Kitchen to make 1 Flour.
Farming: The player must be Level 3 to plant Wheat in a Plot. It costs 30 Coins to plant and earns 90 Coins when harvested. It takes 2 hours to grow.
Other Collection Sources
[
]
Buildings: Ivy's Petting Zoo, Griffin Roost, Windmill
Creatures:

Faeries (including Aideen - The Leprechaun Faerie)
Foxes (including Forest Fox)
Griffins (including Faerie Griffin, Fireworks Griffin, Glimmer Griffin, Griffina, Royal Griffin)
Penguins
Raccoons (including Autumn Raccoon)
Skunkupines (including Elf Skunkupine, Ghost Skunkupea, Party Skunkupine, Pepe Jr., Pepe le Skunkupine, Skunkumouse, Skunkupea, Spring Skunkupea, Werepea, Wereskunk)