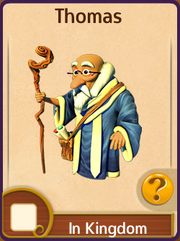 Old Thomas is a character cursed into the form of a goat.
Old Thomas is the first character you rescue, and becomes one of your advisors, having been a scholar prior to being cursed.
To unlock him, the player has to be Level 3 and complete the Old Thomas Introduction Questline.
He then appears over and over to help with Questlines.