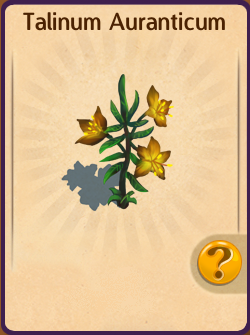 The Talinum Auranticum is a tendable flower that drops Orange Petals. It can be found at random after an Expansion or purchased from the market for 300 Coins.
Talinum Aranticum can be tended every 5 minutes. They can be sold for 60 Coins and there is no limit on the number that can be stored.

Storable: Yes
Card text: Tend to earn Crafting Materials.
Inventory Tab: Decoration
Type: Flower
Size: 1x1
Source: Purchase
Cost: 300 Coins
Requirements: Level 6
Used for: can be fused in the Arboretum to make a shrub or Flower Garden.
Drops: Orange Petal (always), Spellbound Dew
Collection: 5 minutes
Collection Speed-up: 1 Gem