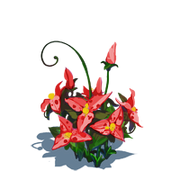 Storable: Yes
Card text: Tend to earn Crafting Materials.
Inventory Tab: Decoration
Type: Flower
Size: 1x1
Source: Purchase
Cost: 35 Gems
Requirements: Level 1
Used for: can be fused in the Arboretum to make a shrub or Flower Garden.
Drops: Red Petal (always), Spellbound Dew (?)
Collection: 20 minutes
Collection Speed-up: ?