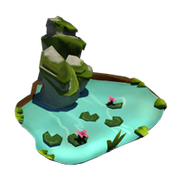 Your kingdom begins with one pond.
Area: 2 x 2
Interval: 10 minutes
Drops: Water (always), and also randomly drops Fish (often) and Mermaid Scales (fairly common.)
Drops unlocked by quests: Fuzzy Moss (common), Butterfish (uncommon), Catfish (common)
The Market sells ponds (under Nature - Other) for 2300 Coins. You must be level 15 to purchase additional ponds.
Events
[
]
During the 2018 April Glimmerblossom Festival, it spawned the Blossom Phoenix.
During the 2018 Ye Olde Toy Shoppe event, it spawned Toy Thieves, which dropped Plush Skunkupines.

Thanks to players for information: Perfectville