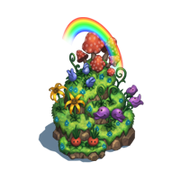 The Magic Garden is visible on the left side of the kingdom map.
It is 2 x 2 and it has 330 Royal Points. It cannot be stored.
Collection time: 22 hours
Drops: Magic Fruit, Pile of Seeds, Living Wood, Faeries' Murmur, Faerie Jar, Glimmerdust, Glimmerbulbs, Flower petals, Rat Tails, Mysterious Venom,Crops, very rare chance of Golden Apple, etc.

WIKI WARNING: It is recommended to avoid going to the Magic Garden until you have obtained the Tinker Camp and Royal Chateau by getting 149 Trade Tickets at the Royal Exchange. Once you harvest a Glimmerbulb, the easy Fruit Trade, Sugar and Strawberries, is replaced with a more difficult trade. Waiting to go to the Magic Garden does not affect early game play. The only advantage is being able to trade for fruit, which could be ordinary Apples, Oranges and Lemons, or an extremely rare chance of a Golden Apple.
Quest
[
]
Goal Prerequisites & Notes:
Collecting from Ivy's Hut twice will trigger these goals.
You need to Expand to the Magic Garden to be able to continue main story goals. Requires:

1080 Royal Points
75000 Coins to expand into the area where The Magic Garden is located.
1 Find The Magic Garden
[
]
| | |
| --- | --- |
| | "I'm not exactly sure. I thought I saw it to the west. I tried to find a way in, no matter which route I took, I ended up right back where I started." |
Find the Magic Garden 0/1 SEARCH
Rewards: 1750 coins, 7 xp
| | |
| --- | --- |
| | "That's it! That's the Magic Garden!" |
2. Designing The Potion
[
]
| | |
| --- | --- |
| | "We need some samples of plant scents and oils. We can gather some ourselves, but we'll need friends to help with the rest." |
Ask friends to send 40 plant essence samples 0/40 ASK (skip 160 Gems)
Gather 20 Living Wood for Ivy 0/20 GIVE (skip 120 Gems)
Rewards: 1850 coins, 7 xp
| | |
| --- | --- |
| | "Success! I've got the perfect recipe!" |
3. Potions Of Clarity
[
]
| | |
| --- | --- |
| | "*cough* You can do the mixing this time. *cough* I'll... take a breather. My recipe is at the Potion Shop." |
Brew and drink 2 Potions of Clarity 0/2 DRINK (skip 80 Gems)
Rewards: 1500 coin, 5 xp
| | |
| --- | --- |
| | "Ok! Let's head to the Garden - after I wash my face." |