The Lion was introduced during the S13 Monster Hunt as a monster to defeat in order to get tokens, and as a placeable creature, Lion was a prize for accumulating sufficient points.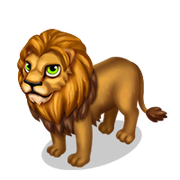 Lion (Spawned Monster)
[
]
Spawned by: Cows, Pigs, Trees
Drops: (Lion) Beast Master Tokens, (RotB) Beast Master Tokens
Hitpoints: 15
Lion (Placeable Creature)
[
]
Don't worry, this lion won't bite!
Notes:
Size: 1x1
Storable, Cannot be sold
---
Note: all information that is struckthrough is obsolete as of the end of the S13 Monster Hunt, all information in plain text is current as of Revenge of the Beasts Event (RotB).