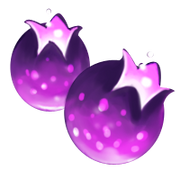 Glimmerbulb is a Farming crop.
Level: 20
Cost to plant: 140 Coins 
Earns at harvest: 340 Coins 
Growing Time: 8 hours
Possible drop: Faerie Jar

They are used in the Rare Fruit Trade and Magic Fruit Trade at the Royal Exchange. 

WIKI WARNING: It is recommended to AVOID planting and harvesting Glimmerbulbs until you have obtained the Tinker Camp and Royal Chateau by earning 149 Trade Tickets at the Royal Exchange. Once you harvest a Glimmerbulb, the easiest Fruit Trade, Sugar and Strawberries, is replaced by a trade requiring more energy.
Waiting to get Glimmerbulbs does not affect early game play. Harvesting Glimmerbulbs is required for the Troll Alert! quest in the Troll Tribe Questline.