The Frizzly Bear was introduced during the Storybook Event of The Knight's Tale as a monster to defeat which could then be crafted as a placeable creature.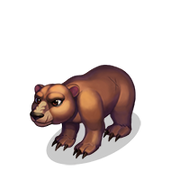 Frizzly Bear (Spawned Monster)
[
]
Spawned by: Ponds, Wells, Trees
Drops: Frizzly Tooth, (RotB) Beast Master Token
Hitpoints: 10
Frizzly Bear (Placeable Creature)
[
]
A bear with fur prone to split-ends!
Crafting: Building: Workshop, Time to Craft: 5 minutes, Cost: 225 Frizzly Tooth
Crafting: Building: Trade Wagon, Time to Craft: 15 minutes, Cost: 120 (RotB) Beast Master Tokens
Drops: Fur, Rat Tail, Creep Tooth, Fey Crystal, Milk
Collection time: 8 hours (32 gems to speed up)
Notes:
Size: 1x1
Storable, Cannot be sold
---
Note: all information that is struckthrough is obsolete as of the end of the The Knight's Tale event, all information in plain text is current as of Revenge of the Beasts Event (RotB).