The Arctic Bear was introduced during the Ice Queen event as a monster to defeat which could then be crafted as a placeable creature.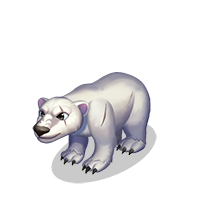 Arctic Bear (Spawned Monster)
Spawned by: Farmhouse, Trees
Drops: Arctic Fur, (RotB) Beast Master Token
Hitpoints: 10
Arctic Bear (Placeable Creature)
A cute and friendly Arctic Bear.
Notes:
Size: 1x1
Storable, Cannot be sold
---
Note: all information that is struckthrough is obsolete as of the end of the Ice Queen, all information in plain text is current as of Revenge of the Beasts Event (RotB).